Skype is the frontier in VoIP and video calling. It is the app that made video and voice calling extremely popular. There was a time when everyone used Skype to make voice calls over internet or to organize video meetings.  But, today, we have many more options. Not everyone wants to use Skype these days. This is the reason why we have put together this list of the best Skype alternatives for VoIP, video calling, and conferencing.
 1. VSee 
VSee isn't much heard of but it is easily one of the best alternatives to Skype for video calling, conferencing, and VoIP. It lets you make free group calls using VoIP technology. VSee hasn't been marketed as an app for end users as it was designed for providing the medical consultation. However, it has all the features you can expect from such an app and can be used for free. It does not offer full HD, but at 720P it is good enough for most users. It also uses only half of the bandwidth as compared to Skype. You can make unlimited video group calls, send instant messages, share files, and share 1 screen every day.  All in all, it is a great app to have.
 2. Google Hangouts
Coming from Google, you can expect Hangouts to be packed with some quality features (which it certainly does). Hangouts may not be a complete replacement of Skype but it can do a lot of similar things and that too free of cost. You can do a conference call with up to 10 people at the same time. The VoIP calls to mobile phones and landlines are chargeable if they originate from outside Canada or the US. But, the prices are pretty nominal; in fact, the lowest you can get. Hangouts has also come up with a feature called Hangouts on Air that lets you broadcast yourself live. Once the broadcast is terminated, the video is automatically recorded and saved to YouTube.
 3. GoToMeeting – Free Video Calling 
If you are looking for a completely free video calling service, GoToMeeting wouldn't be your pick as it is chargeable. However, there is no denying that it is among the top services when it comes to video conferencing. You can try the app for free for a month and then pay a subscription of $40 a month. Being a paid service, it offers more features than its free counterparts. You can organize unlimited meetings through video conferencing and each meeting can have up to 25 participants at a time. The video conferencing is done in the HD quality. GoToMeeting is a cross platform app available on Windows PC, Mac, Android and iOS. It also has sibling apps GoToTraining and GoToWebinar. It is a perfect tool for professionals to organize online conferences and seminars.
 4. UberConference
UberConference is not a video calling or conferencing tool. It is popular for its audio conferencing features. So, if you want a Skype alternative for audio calling, UberConference could be your choice. The app is free with basic features and if you are looking for advanced functionality you can pay a premium of $10 per month.  The free version of the app lets you have audio conference with up to 10 people at the same time (as opposed to 100 with the paid plan). The organizer needs No Pin in order to initiate the conference (which is not the case with most other apps). If you have a paid plan No Pin is needed for all the participants.) You can also integrate the app with all the popular social media platforms.
 5. Voca
If you are looking for a Skype alternative that allows you to make VoIP calls to the international locations without having you to spend a lot of money, you may like Voca app. In fact, you can make free international calls as well if both the parties have Voca installed. The call charges are relatively cheaper as compared to many other apps in this list. Voca also boasts of a very neat and organized interface that offers ease of use. The only challenge is that Voca is not available on the computers. It can be installed only on iOS and Android devices. But, it offers incredible performance and lets you make calls very conveniently.
 6. Webex
When it comes to Skype alternatives, there is no way we can miss Webex. It has been one of the most reliable and used platforms for video meetings and conferencing. The app is free to download but if you need to use the advanced features there will be a price to pay. If you have a small team and you don't need to include more than 3 participants at any given time, free version will be good enough for you. But, by paying $24 a month you can have up to 8 participants in any meeting. Although the app doesn't offer full HD, at 720P HD, it is good enough for most users. You can share the screen and files through this app.  It also initiates a call to the participants whose number has been provided to remind them of the meeting.
 7. ooVoo
In a very short span of time, ooVoo became immensely popular. This free tool lets you make top quality video calls. You can also organize conferences using this app. ooVoo is a cross platform app available on Mac, PC, iOS and Android. It also has a premium version for $2.99 a month (which is way cheaper as compared to the others).  You can record the calls, share the screen, send text messages, files, and do a lot more with this app.
 8. Viber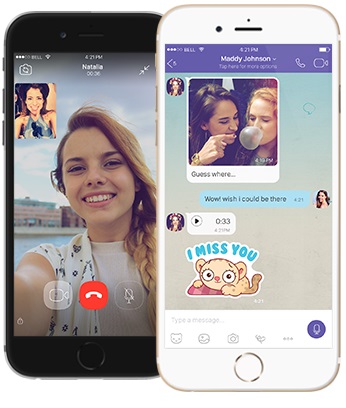 Viber allows you to make video and voice calls for free as long as the other person also has Viber installed on their device. This app was initially designed for use on mobiles, but now it is compatible with Mac and PC too. Viber also lets you make calls to landline and mobile phones but for that you need to pay a price. One of the best things about Viber is that in spite of being free, it does not force any ads on the screen. Viber is counted amongst top Skype alternatives.
 9. FaceTime- Best Skype Alternative
Yes, this app also merited to be the part of this list for many reasons. First of all, it is an incredible video calling app and is a rage among the iOS users. It is the Apple's exclusive app and thus available only on iOS mobile devices and Mac computers. It lets you make free video calls to the others also using FaceTime. If you are looking for alternatives to Skype, then Facetime gets top position amongst others in the list.
 10. Voxox – Video Chat Alternative
Voxos is for sending text messages and making voice calls for free. It is available on iOS, Android, and Windows platform. You can also share videos, photos, and files through the chat window. The app also lets you make international calls to mobile phones and landlines using VoIP. The call charges are pretty cheap.
Conclusion
If you are looking for a Skype alternative, you will find many options. In fact, if you need to organize conference calls then there are many options better than Skype. For instance, you can use GoToMeeting and Webex for professional level conferences and meetings. There are other options, such as Google Hangouts, that do not have as many features as Skype but they are good enough for a number of purposes.