A good media player can change your movie watching experience completely. This is the reason why those who love to watch videos are looking for better options. Media players are not just about the interface and how fancy they look. They are also about codec support, playable formats, speed, performance, and more. There some media players, like VLC, that are extremely popular. But, there are some less popular and yet powerful media players available too in the market you may want to try. This is why, we have compiled this list of top 10 video players for windows you would like to have a look at.
 1. VLC Media Player
It is impossible to not include VLC Media Player on the list of top video players for Windows. This media player has been around for a while and perhaps no other earns its keep here better than it. There was a time when we had to completely rely on the native Windows Media Player for all our video playback needs. But the Media Player was slow at best and did not even support all the file formats. Then came VLC, the open-source video player, which all of us could download free of cost. VLC took the world by storm and it almost completely replaced all the other media players. It supports just about every audio and video format you can name. But, what won the million hearts instantly was perhaps the ease of use and simplicity it offered. Even today it remains to be the most widely used media player for windows 10..
 2. GOM Media Player
Designed by GOM lab, this free program is certainly one of the best media players you will find. GOM Media Player is easy to use with a simple and user friendly interface. It offers support for almost all the video formats including FLV and MKV. This media player is pretty feature rich and offers advanced playback controls such as speed control, audio adjustment, subtitles delay, looping, video effects, and a lot more. GOM Media Player is a simple looking program but it can be made to look more visually appealing with skins and themes. GOM works fine on almost all the iterations of Windows starting from XP with SP2.
Must Download : Download iMessage for Android
 3. KMPlayer
VLC player is great and it supports a wide range of audio and video formats. But sometimes it plays the video format for one file and rejects the same format for another file. This tends to happen often if you are playing the MKV format. This is where KMPlayer gains the edge. It supports codecs that can play almost all the video formats without any hassles. But, that is not the only thing this media player app is known for. It supports a variety of video resolutions including 2K, 4K, 3D and UHD.  All in all, KMPlayer offers excellent video viewing experience.
Also visit : Top 10 Best Photoshop Alternatives for 2017
 4. Potplayer
This is another great video player for Windows OS and is available for free. Potplayer is available on Windows XP and later versions. The good thing about this media player is that it works fine with just about all types of hardware configurations. Even if the processor speed is low or RAM isn't high, it will use the hardware acceleration technique to deliver good performance. Potplayer offers a number of incredible playback features too. It offers 3D viewing experience and supports many types of 3D glasses. In fact, it can be easily said that Potplayer is one of the best 3D media player. The other great thing is that it supports just about all the formats you can think about. It also supports several codecs to make your video viewing experience great.
5. MPC-HC
MPC-HC stands for Media Player Classic – Home Cinema. This is a free media player for windows 10/8/7/XP and perfect for those who are looking for something simple, lightweight, and fuss-free. It has a very neat and simple interface without any ads or unwanted tool-bars. This is the reason why it is able to offer much cleaner video experience. With support for many video formats, MPC-HC can playback many different types of video files.
While the video player itself is very light but it can play even the heaviest video files. So, it is rather a very powerful player. Another great thing about this player is that it has wide code support and therefore you can play the video files even with the rare formats. It also has many themes and skins to choose from to enhance the appearance of the interface. It can be said simple and  best media player for windows 10.
6. RealPlayer
Don't miss : Best VPN for Android 2017
RealPlayer is a free video player with the in-app purchases. It is available on almost all iterations of Windows OS. It also has a paid version for $4.99. RealPlayer offers cloud support. This means that you not only watch videos you can also save them on cloud and watch them from any device you want to at anytime you want to. While the free version packs the standard features, which are good enough for casual users, the paid version also makes sense as it gives you the 365 GB cloud storage space. Of course you will need internet connection to playback videos from the internet and also to save them on the cloud. RealPlayer has been around for a while and is considered to be one of the best video players.
7. DivX Player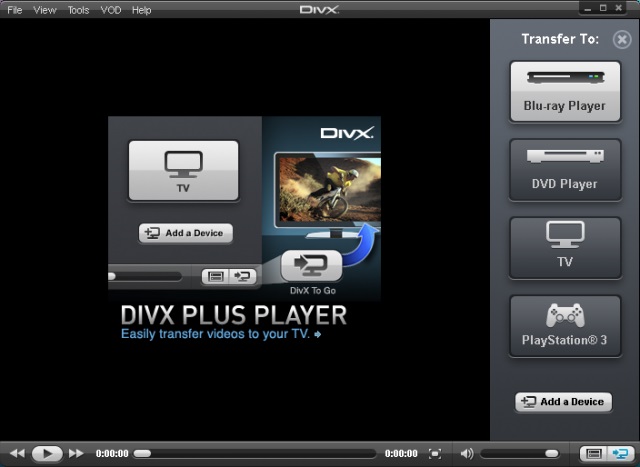 One of the biggest reasons why you would want to use DivX instead of any other video player is that it offers high-quality video experience without any compromises. Whether you wish to watch 4K or HD videos, DivX will play all of them easily for you. DivX supports all the popular formats for videos including MP4, AVI, MKV and more. By using the DLNA support you can also stream the video content across various devices.  DivX also comes packed with a number of other playback features. It also helps you organize your videos better. It also creates a playlist of the recently watched videos so that you can visit them easily whenever you want to.
8. Plex
Trending : Best iTunes Alternatives to Manage Music 
Plex is a popular windows media player for a number of devices. Not only can it playback videos on your Windows PC, it is also available on Android and iOS. Plex is available for free with all the standard features. If you are looking for more advanced features, you can buy the premium version. Plex also offers cloud storage so that you can watch the videos later at the time and device of your choice. Plex also packs some really interesting playback features. You can create playlists and also watch the videos from where you left off. If you are looking for a media player that doubles as a media server, Plex could be a great choice.
9. UMPlayer
UMPlayer stands for Universal Media Player. While it may not be the best video player as compared to the others on the list, it is definitely worth a try. It is an open-source project and thus it won't be surprising if it packs some incredible features. It also has the built-in codec support that allows you to play wide range of video formats. You can also select a variety of media sources such as YouTube and many other video services. It also has many themes and skins in case you like to customize the appearance.
10. SMPlayer
SMPlayer is a regular best video player with almost all the features you would expect. It also has support for YouTube allowing you to directly play YouTube videos through it. It can play wide range of video formats. You can also enhance the appearance with skins and themes.
Conclusion
VLC media player easily beats all the other players as far as the user base is concerned. Undeniably, it is a great player with many features. However, there are many other too that offer great video experience to the users. There is a chance you may like some of them more than VLC. It will be a good idea to give some of them a try.
Must Try : 10 Best Skype Alternatives for Video Calling & Conferencing