SnapChat is a photo and video messaging application, which became exceedingly popular within few months of its launch. The app lets you share photos and short videos that get deleted automatically after a period of time. It is one of the most widely used messaging applications of the world.
Although SnapChat is a cross-platform mobile application, many users want to access it online. Unfortunately, the developers of this app have not launched any web-based version yet. So, officially you cannot access it online. However, there is a workaround, which we will discuss in the following text.
Using the SnapChat Website
One of the ways to access SnapChat online is by visiting the link https://accounts.snapchat.com. You don't need any emulator in order to access your SnapChat account from this link. All you need to do is login with your SnapChat username and password. However, there are some serious limitations. This link is primarily for the account management purposes and does not indulge you in the core features of the application. You can change your login credentials and alter a thing or two on related to your account. However, you cannot send or receive Snaps through this link. If you wish to do all things SnapChat is famous for through your web browser, read the next method we have outlined here.
Snapchat Login Using Manymo
Let's first understand what Manymo is. It is a web-based Android emulator. You must have heard of popular Android emulators like BlueStacks and Andyroid. In order to use these emulators, you need to first download and install them on your computer. A lot of people are okay with that. However, many people out there do not want to install an additional application on their computer to use mobile apps. So, what do they do?
This is where Manymo comes into picture. It lets you access the Android emulator on your web browser and thus eliminates the need to install an application on your computer. It is a great choice for people who like web-based functions more than the desktop ones.
The free version of it allows you to access Manymo 10 times in a month. If you want to use the emulator more number of times you can opt for the premium version.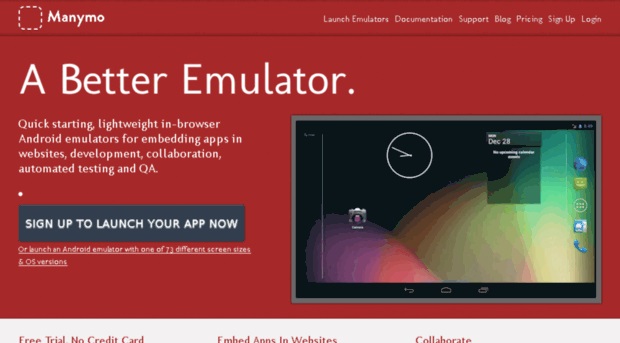 Here are the steps to login to SnapChat online for free:
Step 2 – Visit Myanmo.com website and sign up for a free account. It is best to try the free version first before buying the premium one
Step 3 – Once you are signed up, login to Mynamo with the username and password.
Step 4 – From within Mynamo environment locate the SnapChat APK file that you just downloaded
That would be it! You will now be able to enjoy SnapChat online totally free of cost.
Check : How to Disable and Deactivate iMessage on iPhone & iPad
Features of SnapChat
Here is the list of some cool features of this app:
SnapChat allows you to send pictures and videos to the friends and family. None of your messages are saved on the phone memory of the receivers.
The recipient will be able to see the message only for a few seconds, after which it will automatically disappear.
The app ensures complete privacy of the users with proper encryption.
There are a number of stories and content from around the world to explore.
There are a number of effects, filters, drawings and captions to choose from before sending the pictures.
The app has also introduced the Lens feature that lets you add some cool and exciting effects to the snaps with the help of face detection technology.
Conclusion
SnapChat doesn't have any official web-based version. There is a link from where you can manage the account but it does not offer the functionality to send and receive snaps. Myanmo web-based Android emulator is the best way to use SnapChat online. You simply need to create a free Myanmo account and upload the SnapChat APK file onto it.
Trending :  iMessage for Android