Most operating systems have default applications to run the webcam. In fact, all the video calling applications like Skype, Facebook, etc. have integrated support for webcam. If you want to make regular, mundane video calls, you don't need any webcam software. But, if you are looking for a more exciting webcam experience, you will want to try out one of the webcam tools we have listed below. These tools offer a wide range of webcam functions, such as adding effects and filters to the feed, splitting your camera for different applications, recording videos, taking snapshots, and more. Take a look!
1.  ManyCam 4.1
ManyCam 4.1 is one of the most popular webcam software. While it is extensively used for casual and personal purposes, it can also work as a great professional tool. This is the reason why it has free as well as paid versions available. The free version is perfect for the casual users. More serious users could buy ManyCam Pro for $49.95 or ManyCam Enterprise for $149.95. ManyCam 4.1 comes packed with lots of features. It is primarily used to create a webcam studio. It lets you add different effects to your webcam broadcast.
This webcam software(Windows 10/8/7) can also broadcast the live recording of your games. You can also integrate it with YouTube. All in all, ManyCam 4.1 is a great tool to have if you are looking for some webcam fun.
Must visit : 10 Best Free Steam Games for Windows or Mac
2. CyberLink YouCam 7
YouCam 7 is easily one of the best webcam applications to have on your computer. Not only does it capture high quality videos, it can also take photos. You can also use this tool for surveillance purposes. It is shipped with loads of features to make your webcam experience even more exciting. YouCam 7 by CyberLink is available only on Windows platform. This tool is not free but has two editions – Standard and Deluxe. The Standard version is available for $34.95 and Deluxe for $44.95. It goes without saying that the Deluxe version has more features than the Standard. The Standard version also does not have dual camera support. YouCam7 has a variety of features to make your video stream even more fun. You can add effects, emoticons, frames, and a lot more to your videos.
3. SplitCam
If you are looking for the best free webcam software for windows 7,8,10 that is not only feature-rich but also free, SplitCam is the best option for you. SplitCam is not just any other webcam capture software; it can also work as a complete video streaming application. It also features various effects and filters to make your videos more dramatic and funny. One of the best things about SplitCam is that it lets you choose the broadcast resolution optimal for your internet connection. This allows you to have a smooth stream even on slow connections.
As the name suggests, SplitCam offers the feature to split your videos. This allows you to use the webcam with more than one application at a time. You can also integrate SplitCam with various streaming sites out there.
Trending : Best Encryption Software for Windows 10/8/7
4. iGlasses
iGlasses is one of the few Mac exclusive webcam applications. It is an easy to use, simple and minimalistic webcam tool. In spite of being simple to look at, this tool offers many incredible features. For instance, you can add some really awesome and attention grabbing effects to your videos.  iGlasses is available for $19.95 but there is a free trial.
As already mentioned, this tool has a very simple interface. You could carry out various tasks with incredible ease. iGlasses does not offer a lot of features as compared to the others on this list. But, it does pack all the basics and makes your webcam experience more amazing. You can also integrate the tool with popular video calling services such as Facebook and Skype.
5. Debut Video Capture Software
Debut Video Capture Software hasn't been solely designed as a webcam tool. In fact, it is more promoted as a screen recording application. However, it does pack a number of webcam features as well making it one of the viable webcam tools. This is the reason why it earns the merit to this list. Debut has a free as well as a paid version for $49.99. Needless to mention, the paid or Pro version offers more features than the free one. If you are looking for a screen recording tool that can double as webcam software, Debut is the right pick for you. Debut records high quality videos from your webcam and helps you stream them over the internet using the available platforms.
6. YawCam
YawCam is one of the best webcam recording software you can get on your computer. Although free, it is packed with some amazing features found only in the more advanced or paid tools. One of the best things we liked about YawCam is that it can easily stream the videos from the webcam over the popular sites. It also has motion detection technology, which is rare in any freeware. You can also take high quality images using this tool. It also allows you to add various effects and filters to your feed. In spite of being feature rich, YawCam offers a very easy to use and neatly organized user interface.  The only drawback is that it is supported only on Windows platform and yet it is not available on Windows 10.
7. Fake Webcam
Wondering why is it called Fake? Don't worry, it is legitimate software. The developers have called it Fake because it allows you to record the video and then play it back as a webcam feed. So, this means during a video call, you can broadcast the recorded video as live. The name eponymous to its biggest function may make you feel it is low on features. But, that is not true. Fake Webcam offers many other features and allows you to enhance your videos through a number of effects and filters. You can buy this webcam tool for $9.95. Before the purchase, you can try the tool in the thirty days trial period.
8. IP Camera Viewer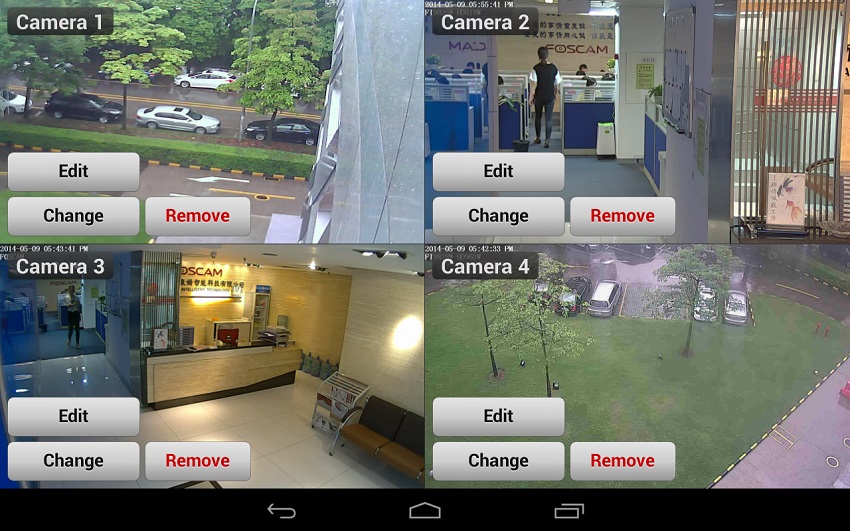 If you are looking for a cheap and effective way to set up a surveillance system through your webcam, IP Camera Viewer could be a great choice. This tool primarily focuses on surveillance and you could use it at residential as well as commercial premises. This tool can provide you the video feed from up to four cameras. Unlike the other surveillance tools, IP Camera Viewer is easy to set up and use. It has a simple yet highly functional interface. While IP Camera Viewer works best when used as surveillance, it can also be used as a regular webcam tool. But, if you are looking for a feature-rich tool for casual use, you may want to try one of the other programs on this list. IP Camera Viewer is completely free of cost and is available on Windows platform.
9. Webcam Toy
What we like the most about Webcam Toy is that it is completely platform independent. It is a web-based tool that you can access through your web browser. This is why you can use it on any computer platform of your choice including Windows and Mac. It works fine on all the major browsers such as Safari, Chrome & Firefox. With just one click you can have the software running in your browser. The controls and interface elements are properly organized allowing you great ease of use. Webcam Toy isn't exactly a feature-rich tool but it does pack many standard effects and filters. But, there are some glaring drawbacks. For instance, it only broadcasts the videos and offers no recording support. Also, you cannot capture pictures through this tool. But, it is completely free of cost, does not require any installation, and easy to use. So, there it won't hurt to try it.
10. Free Webcam Recorder
This is another free tool and as the name suggests, it serves the primary purpose of recording videos and capturing photographs. Again, Free Webcam Recorder doesn't pack a lot of features. However, if you are looking for an effective recording tool, this is the one for you. The most incredible thing about Free Webcam Recorder is that it can record videos in a wide range of formats including MOV, AVI, MP4, FLV and more. This tool is available on Windows version up to 8.1. Unfortunately, it is not available on Windows 10.
Also check : Best 10 PayPal Alternatives for Online Transactions